It is time to get your needles out and stitch some witchy, ghostly, deathly decorations… Enjoy this selection of Halloween embroidery pattern goodness!
The days are getting shorter and the sun is only coming out sparsely. Halloween is near, and we can finally get out the spooky Halloween decorations. I can almost smell the pumpkin spice and woolen blankets, the burning logs in the fire and the bubbling cauldron in the back. It is time to stitch some Halloween embroidery patterns!
All the Halloween embroidery patterns listed here are available on Etsy. You can find all of them plus many more in my list of favorite Halloween patterns directly on Etsy. This way you can see all of them quickly in the Etsy app or on desktop.
Disclaimer: This article contains affiliate links.
---
---
Witchy embroidery patterns that put a spell on you
Hocus Pocus witch embroidery pattern
Add a pinch of magic to your home and stitch up this pattern by Stitch Art by Bowie.
The little cauldron with the pumpkins is setting such a mood. I especially love the lettering on this particular embroidery project.
---
I put a spell on you hand embroidery design
Looking like an enchanted embroidery piece, this autumnal embroidery design makes your home comfy and warm with a witchy twist. Embroidery pattern by tuskandtwine
---
I put a spell on you witch embroidery pattern
Here is another spin on this classic! This Pattern by Spellbindingthreads uses black and white with a bit of color. If you are into black and white, just leave out the colors, and you are good to go!
---
Salem Trials – The Witch Hunt cross stitch pattern
If this doesn't scream Halloween I don't know what does. Get into the right mood while stabbing your fabrics many, many times with this cross stitch pattern by LittleStitcherShop
---
Witchy crystals hand embroidery pattern
If you're into spooky cute as a Halloween aesthetic, this design is perfect for you. The design features crystals, a crystal ball with the word "witchy" inside it, and leafy vines surrounding it all. Halloween embroidery pattern by flossandhoopshop
---
Embroidery patterns to express your inner witch
From spellbinding, skulls, or crystals to moon phases – these 3 Etsy shops are top destinations to find spooky and witch-themed embroidery patterns!
---
Spooky & deathly embroidery patterns for Halloween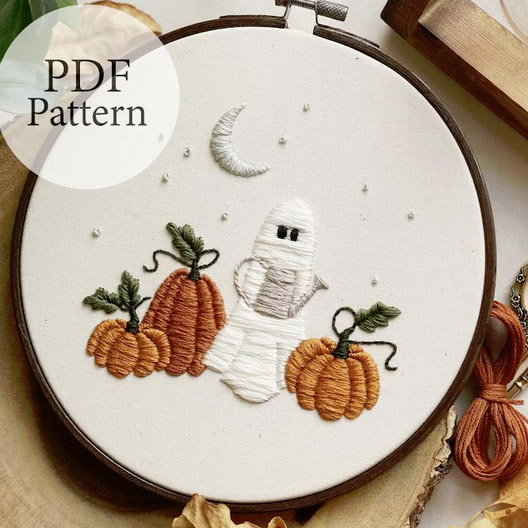 Ghost gardener embroidery pattern
This pattern by MagnusandQuill is such a cute approach to the Halloween theme. All the patterns in this shop are worth stitching if you are more on the cuter side of the style spectrum.
---
Home Sweet Home coffin embroidery pattern
"Home Sweet Home" is an embroidery pattern to celebrate all things spooky this Halloween! It is suitable for well-seasoned stitchers as well as those new to the art of embroidery. Coffin embroidery design by ThreadMeadows
---
Snake & skull Halloween embroidery pattern
ALIFERA does an awesome job at creating haunting and yet calming scenery in her embroidery art. This skull embroidery design is no different!
---
Gothic rose Halloween embroidery pattern
In this pattern by floralsandfloss you'll get two embroidery projects in one bundle! A 7″ hoop with Gothic roses and a shimmery copper coffin, as well as a second pattern with just florals and leaves.
---
Creepy Cross-Stitch Embroidery book
If you want to dive deep into the Halloween Spirit or love the charm of morbid motifs, this brand-new book by Lindsay Swearingen might be right up your alley!
Creepy Cross-Stitch includes 25 cross-stitch projects to die for.
For more embroidery-related project ideas, check out these articles:
Cottagecore embroidery patterns
Dark Academia embroidery patterns
Cat embroidery patterns for your inner crazy cat lady
---
Pumpkin embroidery designs
Spooky night embroidery pattern
This embroidery pattern is one of many fabulous patterns made by WhyKnotStitches! If I had the time, I would stitch them all 😀
---
---
Do you want more tips and tricks on hand embroidery?
Join the Tutorial Alert! It is a biweekly newsletter that contains information about new tutorials & articles on Pumora, tips & tricks, and promotional content like new embroidery patterns or special discount codes.