Many embroidery people I know – me included – are also cat people. Cats might get entangled with your threads or like to sit on your hoop – because it is basically a round box from the perspective of a cat. But stitched cats are tame and don't mess with your threads, so let's embroider some cats! Today I want to show you my selection of cat embroidery patterns. Ranging from the crazy cat lady to the cutest cats ever…
If you are new to hand embroidery, you can find my comprehensive guide to embroidery here on the blog.
---
For more embroidery-related project ideas check out these articles:
Embroidery patterns inspired by bees
Dark Academia embroidery patterns for book lovers
Flower embroidery patterns & kits – floral stitches for your home
Disclaimer: This article contains affiliate links.
---
Mini siamese kitten cross stitch pattern
This cross stitch pattern by La Selva Design is just the cutest thing ever! Make sure to take a look at her other patterns, too, as she has all kinds of cute baby animal patterns!
---
Cool cats pattern
This pattern by TheHoopInHand is a great way to learn new stitches in a playful way. The fusion of flower texture stitches and the cat motif makes this pattern very unique!
---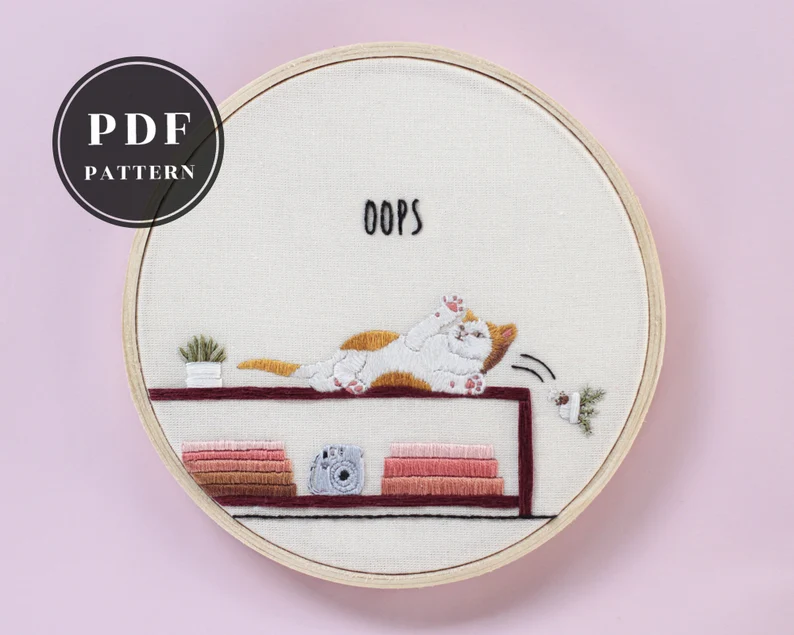 Clumsy cat embroidery pattern
Everyone who has a cat around knows how clumsy they can be. Or are they doing it on purrrpose?! This pattern by LunaireStudio is the perrrfect gift for a cat lover.
---
---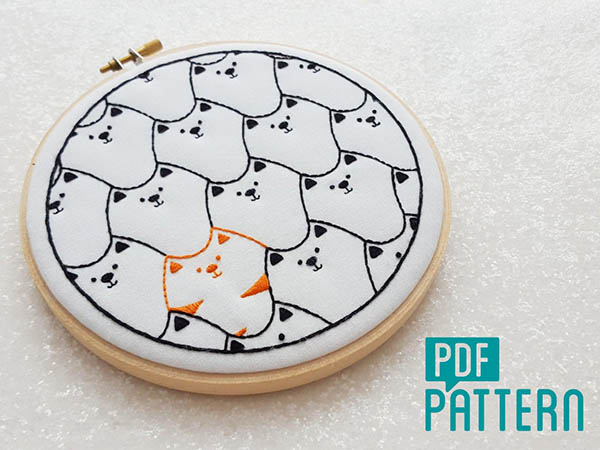 Cats, cats, cats!
With the cats, cats, cats pattern by OhSewBootiful, you'll have an endless pattern that you could also stitch on anything bigger than a hoop. Wouldn't it look nice on a cushion cover that your cats like to snuggle in?
---
Cats as famous artists embroidery pattern
The individualistic nature of cats might have inspired WhyKnotStitches to create these patterns. Whatever it was, this idea was the best cat-related design choice of all time!
---
The Three Eyed Cat embroidery pattern
Let's stay in the magical realm with this three eyed cat pattern by ALIFERA. If you are into this type of imagery, make sure to check out ALIFERA's other patterns. I'm sure you'll enjoy them, too!
---
---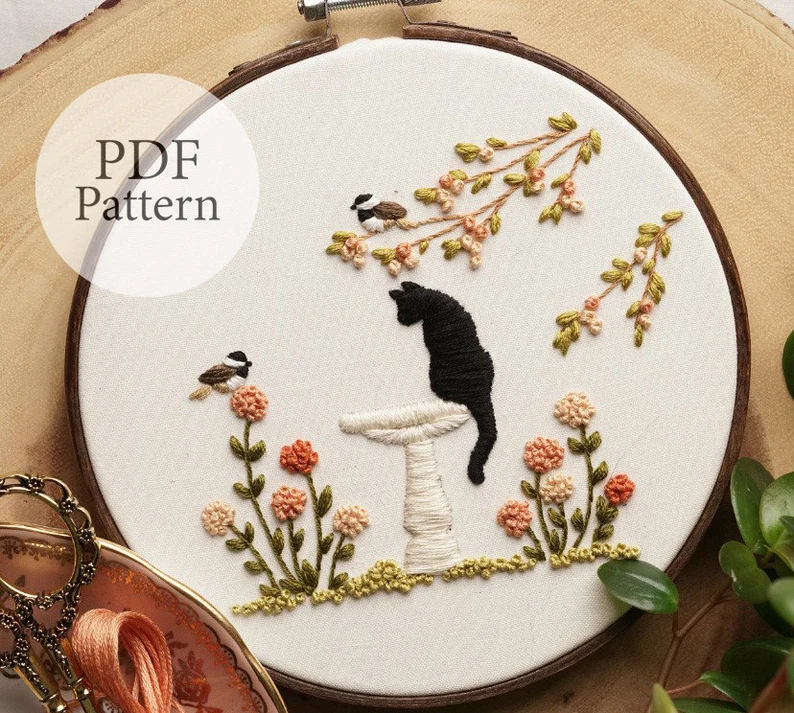 Garden cat embroidery pattern
This pattern shows the calmer side of cats. Again MagnusandQuill has the perfect pattern for the calm quirky people among us.
---
Cat Silhouettes cross stitch pattern
Use this set of cat silhouettes to stitch cats on everything! This pattern is also by LaSelvaDesigns, who made the cute Siamese kitten cross stitch right at the beginning of this post.
---
Flower crown cat pattern
Speaking of subtle patterns, this simple cat embroidery pattern by Stitch with Skye brings out the soft side in a cat's temper. Because of its simplicity, it also makes for a great last-minute gift for the cat lady in your life.
---
More themed embroidery patterns
Do you want more tips and tricks on hand embroidery?
Join the Tutorial Alert! It is a biweekly newsletter that contains information about new tutorials & articles on Pumora, tips & tricks, and promotional content like new embroidery patterns or special discount codes.