Hand embroidery samplers are a great tool to learn basic and more advanced embroidery stitches. Embroidery samplers come in a huge variety and there a lovely modern style embroidery samplers that go beyond the traditional cross stitch samplers. In this article, you'll find my personal favorites in embroidery sampler patterns and kits! Each of them can teach you a lot of embroidery stitches. These embroidery samplers are also visually pleasing and modern-looking so that you can hang them on your walls later as a stand-alone piece of art.
If you are new to hand embroidery, you can find my comprehensive guide to embroidery here on the blog.
---
Disclaimer: This article contains affiliate links.
---
My recommendation: Dropcloth samplers
Rebecca Ringquist has been creating embroidery samplers for many years and they are a feast for the eyes! I highly recommend her embroidery kits and preprinted samplers.
12 months of embroidery samplers
For each month of one year, you'll get an individual embroidery sampler featuring a basic stitch and its variations. This embroidery kit is fantastic if you have fun exploring new stitches.
---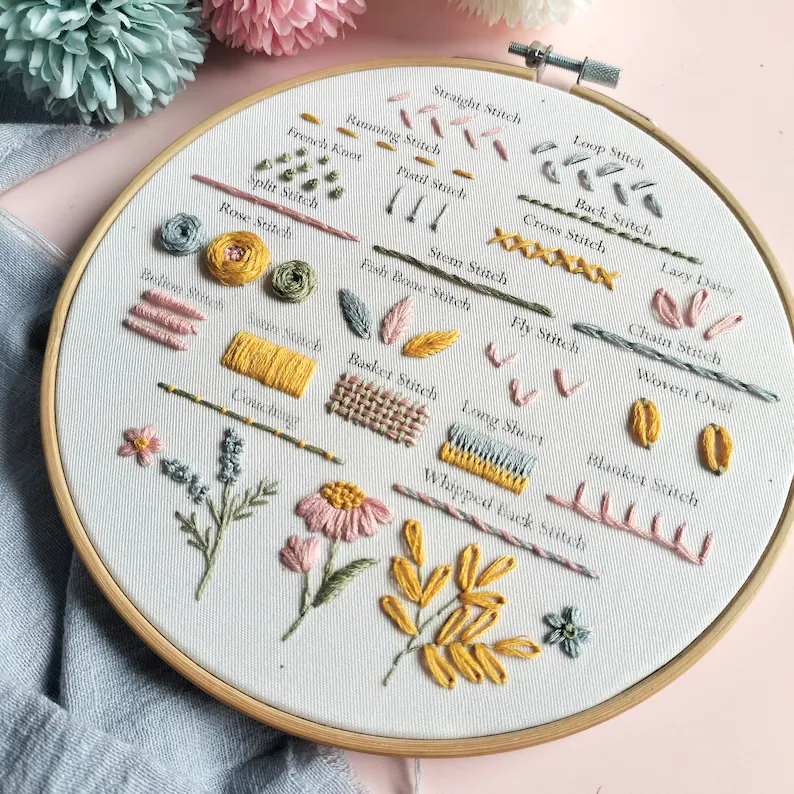 ---
---
Heart embroidery sampler pattern
Rachel Beyers lovely pattern takes the classic line sampler to another level. The heart shaped sampler is simple and timeless. It looks much more difficult than it is – there are 7 embroidery stitches in there – can you find them all?
---
Colorwheel embroidery sampler
This colorful sampler by Rebecca Ringquist comes as a preprinted fabric so that you can start stitching right away! The design has become very popular, and rightfully so.
---
Hello Rainbow embroidery sampler kit
Treat yourself with this colorful sampler kit. Practice and learn 16 different stitches of hand embroidery with this beginner level "hello Rainbow" embroidery kit done in a 6 inch hoop!! This embroidery sampler in rainbow colors also makes a beautiful & multicolored wall art for your house.
---
Modular embroidery sampler
If you are interested in learning embroidery or have just gotten started in this craft, this sampler is the perfect pattern for you! Learn 20 embroidery stitches in 40 different variations, from the basics like back stitch and chain stitch, to the more adventurous ones like Crow's Foot and Turkey Work.
This sampler also comes with video instructions.
---
The stitch lexicon sampler
Yes, this is my very own embroidery sampler. You'll learn 52 embroidery stitches. The pattern includes illustrated instructions and facts about the stitch (where you would use it & some tips). Also, there are video instructions for every single embroidery stitch.
---
Rainbow Embroidery Sampler
This embroidery sampler kit is designed by Samantha Claridge. It features 45 embroidery stitches and comes with all ingredients to create this project.
If you already have everything to do hand embroidery (or don't want to wait for shipping), there is a PDF version of this sampler, too!
---
Pastel skies star embroidery stitch sampler
Let's go with a unique star sampler to spruce up our embroidery skills! This embroidery pattern comes with a wide array of stitches for stars and basic stitches.
---
Flower embroidery sampler pattern
If the line sampler is not for you, what about a flower themed sampler? This pattern by Beth Colletti has a folksy vibe to it and teaches you 11 stitches.
---
National park embroidery sampler
Kelly Fletcher creates simplistic embroidery patterns and the national park sampler is no different. If you are looking for a clean and well written pattern, this is the embroidery pattern for you!
---
More themed embroidery patterns
Here are the other projects from Emillie Ferris' patterns I did over the past months. (she is not paying me to write about her work, I'm just a huge fangirl of her embroidery patterns and buy all of them by myself)
Do you want more tips and tricks on hand embroidery?
Join the Tutorial Alert! It is a biweekly newsletter that contains information about new tutorials & articles on Pumora, tips & tricks, and promotional content like new embroidery patterns or special discount codes.