Celebrate spring with a freshly stitched embroidery pattern! These selected patterns and kits are filled with bunnies, bees and of course: spring flowers! From daffodils and dandelions, blooming cherry trees and delicate greens – you'll find all the stitchy goodness you need for this season.
If you are new to hand embroidery, you can find my comprehensive guide to embroidery here on the blog.
For more embroidery related project ideas check out these articles:
Embroidery patterns inspired by bees
Summer embroidery patterns – for the beach vibes in your home
Disclaimer: This article contains affiliate links.
---
Daffodil Cottage by Bumpkin Hill
"Daffodil Cottage" DIY EMBROIDERY KIT for beginners and seasoned stitchers looking for a comforting project.

Capture the Spring feeling of HOPE and new beginnings all year round.
---
Cross Stitch Pattern Breath of spring
This spring cross stitch pattern by cute patterns by Maria features an adorable fox with spring greenery.
---
Easter bunny Embroidery Kit by Tamar Yahir Nahai
'Easter Bunny' Embroidery design is a 'Do It Yourself' project.
It can be fun and easy to be creative, just follow the stitching & color guides and you'll easily create your own beautiful embroidery art!
---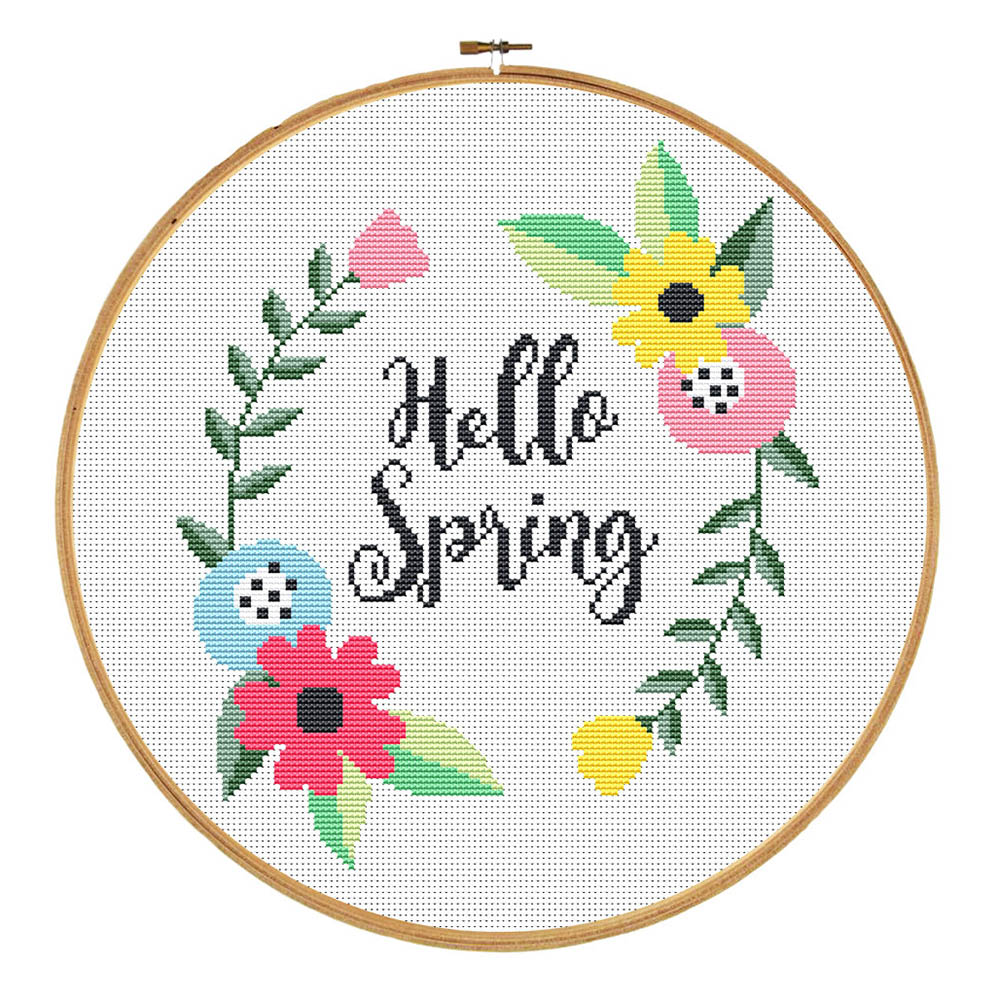 Hello spring cross stitch pattern by Cross with me
The "Hello Spring" cross stitch pattern is a simple and colorful pattern to add a touch of spring to your walls.
---
Spring Blossom Tree by StitcheryStudioShop
This little Spring Tree is an easy and relaxing little embroidery kit. Since it includes all the materials need to make this project, it is perfect for gifting, too!
---
Chickadee bird double hoop by Namaste Embroidery
Celebrate spring with this gorgeous design featuring a trio of chickadees surrounded by lovely cherry blossoms. Stitch the project in the double hoop format or go for a more traditional look in a regular hoop and add your own custom text to the center. Each chickadee also stitches up as a unique pattern for when you want to work on a smaller project.
---
Spring sheep hand embroidery pattern by HelloHoop
This Spring sheep embroidery pattern is perfect for any Spring decor. It will also look great on a pillow, tote bag or whatever project you fancy.
---
Bunny and flowers embroidery pattern by knackmakings
"Spring Bunnies" is an embroidery pattern recommended for beginners that are looking for a challenge.

This fun spring project makes a wonderful DIY hoop art piece to display in a cozy corner in your house and even a great hand made gift.
Do you want more tips and tricks on hand embroidery?
Join the Tutorial Alert! It is a biweekly newsletter that contains information about new tutorials & articles on Pumora, tips & tricks, and promotional content like new embroidery patterns or special discount codes.